NEW
DELHI
: Delhi recorded more than 100 Covid deaths for the second consecutive day on Saturday with 111 people succumbing to the disease in the last 24 hours. The total number of deaths due to Covid has now gone up to 8,270. Of this, 1,759 deaths have taken place in November alone.
On Friday, the capital recorded 118 Covid-19 deaths. The single-day toll was, however, recorded on November 18 when 131 people were confirmed dead due to the infection.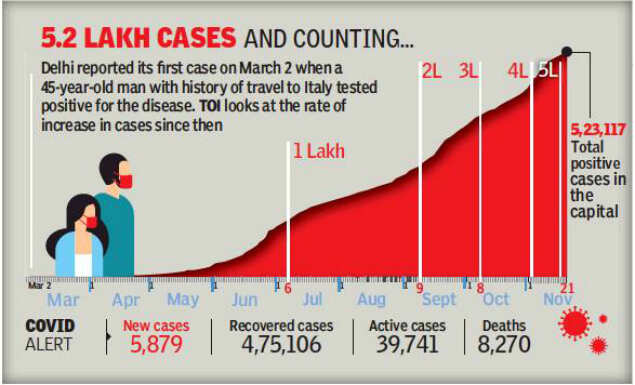 On the positive side, the number of new cases have reduced slightly. On Saturday, Delhi recorded 5,879 fresh cases of Covid-19, which is the lowest since November 16 when 3,797 new cases were recorded in a day.
According to Delhi health bulletin, 45,562 tests were conducted in the capital in the last 24 hours. Of these, 1,845 tests were done using RT-PCR/CBNAAT/TrueNat and 23,717 tests were done using Rapid Antigen Test kits. The positivity rate – number of positive cases from those tested – was recorded at 12.9%.
The biggest crisis caused due to increase in cases is the unavailability of ICU beds. Delhi Corona App, which provides real-time updates on availability of hospital beds, shows 91% ICU beds with ventilator support and 85% of ICU beds without ventilator support are occupied. Top hospitals like Apollo, Max, Fortis and BLK among others do not have ICU beds. "We are getting many requests for ICU beds. But there are none available," said a senior at Manipal hospital, Dwarka.
Delhi government and the Centre both are working actively to add more ICU beds. To meet the increased demand for manpower, the Delhi government has also allowed hospitals to rope in MBBS students, interns and dentists to assist.
Critical-care experts say death rate due to Covid-19 has gone up in the current peak, also referred to as the third wave, as compared with the peaks witnessed in June and September. This time, there are more seriously ill patients, doctors say. "We are seeing a lot of cases of Covid-associated pneumonia. Patients often visit hospitals late when the oxygen saturation has already reduced to dangerous levels, leading to higher risks of complications and even death," said a doctor at AIIMS Trauma Centre.